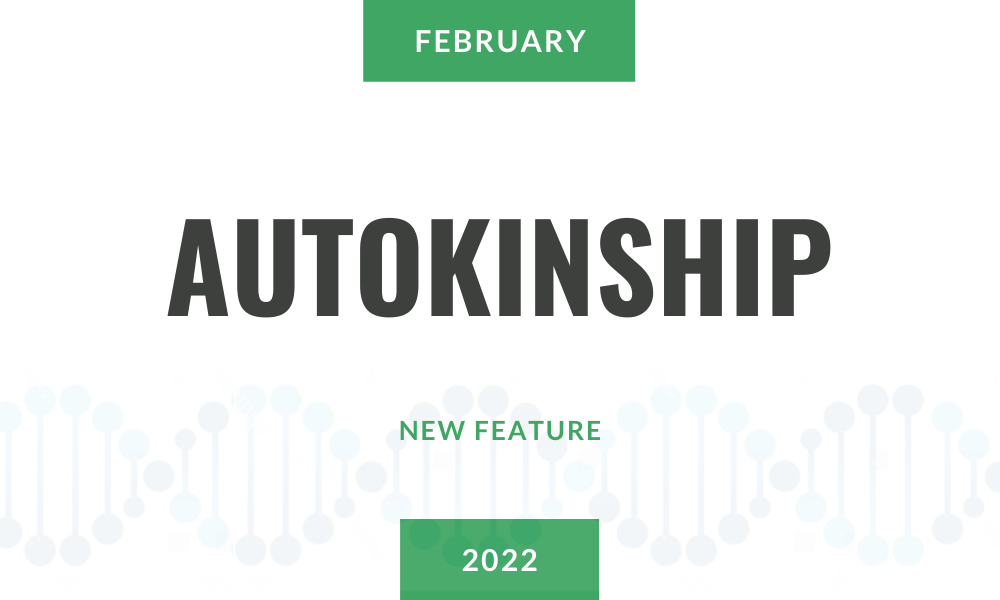 DATE:

AUTHOR:

The GEDmatch Team
Free Tools
Tier 1 Tools
Releases
Bug Fixes
AutoKinship Tool Launch & the Latest Site Improvements
DATE:
AUTHOR: The GEDmatch Team
New Tool: AutoKinship
For the last 4 months, our GEDmatch team has been hard at work in collaboration with Dr. Evert-Jan Blom to integrate his AutoKinship tool directly into GEDmatch. Here is how Roberta Estes describes this new tool:
Genetic Affairs has created a new version of AutoKinship, named AutoKinship Tree at GEDmatch. The new AutoKinship Tree adds new features, allows for more kits to be included in the analysis, and integrates multiple reports together:
AutoCluster - the autoclusters we all know and love

AutoSegment - clusters based on segments

AutoTree - reconstructed tree based on GEDCOM files of you and your matches, even if you don't have a tree

AutoKinship - genetic trees

AutoKinship Tree - new, combines both of the above and adds features

Matches

Common Ancestors with your ancestors

Common Ancestors between matches, even if they don't match your tree

Common Locations
Maybe the best news is that some reports provide automatic triangulation because, at GEDmatch, it's possible to not only see how you match multiple people, but also if those people match each other on that same segment. Of course, triangulation requires three-way matching, but also identification of common ancestors which is part of what AutoKinship Tree provides, in multiple ways.
Read Roberta's walkthrough of AutoKinship at https://dna-explained.com/2022/02/21/autokinship-at-gedmatch-by-genetic-affairs/.
Learn more about Dr. Evert-Jan Blom here: https://gedmatch.medium.com/meet-dr-evert-jan-blom-1d7e53d9b8df
AutoKinship is a Tier 1 tool and can be accessed on https://app.gedmatch.com.
Site Fixes/Improvements
Applied to both app.gedmatch.com & classic.gedmatch.com
Added support for Min Segment cM selection for MKA matrices

Added additional exceptions handling related to AJAX errors for Triangulation

Fixed Triangulation bugs: crossmatch, single chromosome, Latin name conversion

Optimized Triangulation memory usage

Fixed MRCA failure on large GEDCOMs

Fixed Triangulation error related to no matches/segments

Fixed Triangulation AJAX error related to cross-matching

Updated One-to-One to accept up to 14 character kit names, e.g., filtered kits

Fixed superkit display in DNA File Diagnostic Utility

Added additional exceptions handling in Ancestor Projects, Admixture, Triangulation

Bugfix to show total cM max limit value in triangulation results summary

Redesigned Upload DNA form for a better user experience

Fixed AutoClustering to support kits with UTF-8 characters in the name

Update Triangulation to handle tag group names with double quotes

GEDcom parent links corrected for Search All GEDCOMs tool results
Only for app.gedmatch.com
Bugfix and updates for AutoSegment to better handle timeout cases (processing spinner stuck)

Removed old/unnecessary text from Surname Search